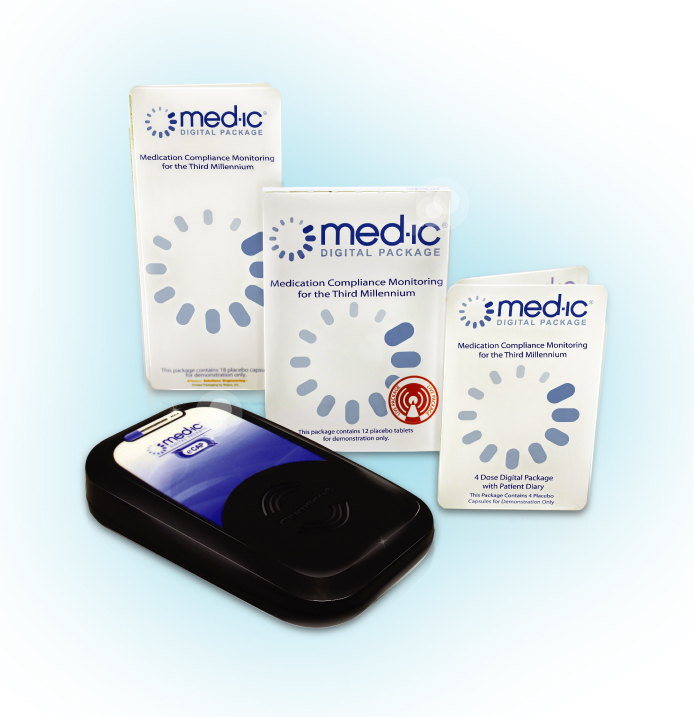 The Med-ic® ECM (Electronic Compliance Monitor) is a revolutionary stick-on paper label for medication blisters that provides a disposable, inexpensive, state-of-the-art method to address the multi-billion dollar health care problem of medication non-compliance.
Med-ic was designed from the ground up to be affordably priced and with 100% event accuracy in mind.To-date hundreds of thousands of Med-ic packages have been built. They are mostly used in multi-center, multi-year clinical studies. Med-ic won the prestigious HCPC "Package of the Year Award" in 2005.
Every new Med-ic design is carefully laid out, tested, and validated before being released for production. Med-ic packages are guaranteed to yield 99.6% event accuracy (time of dose removal correctly recorded within +- 2 minutes), although validation tests have shown repeatedly 100% package survival and 100% event accuracy.
Developed by smart packaging experts Information Mediary Corp. the Med-ic ECM is designed to track medication usage for any standard blister packaging format without active patient input. The Med-ic ECM solution uses patented printed sensors of non-toxic, conductive inks printed directly on standard paper label stock.
Applying Med-ic is as easy as applying a mailing label, and Med-ic smart labels are completely compatible with standard pharmaceutical heat and cold sealing processes.
The Med-ic CertiScan RF Reader and CertiScan Compliance Monitoring Software retrieve and display patient compliance information using the latest in RFID technology.
Dim lights Embed Embed this video on your site