World's first and only NFC Forum-certified Medication Adherence Solution:
Finally, after 30 years, the era of proprietary medication event management systems (MEMS) has come to an end. MEMS record the time each dose is accessed from a smart medicine bottle, such as eCAP (www.ecap.biz) or Smart Blister package (www.med-ic.com), including electronic versions of Dosepak (cerepak.com). 
IMC, the global leader in Smart Medication Adherence Solutions, is proud to announce that our Electronic Content Monitoring NFC Tag is the world's only Medication Adherence Device certified and listed by NFC Forum. 
For pharma QA folks there will be no question that only a certified device should be chosen to eliminate the risk of incompatibilities. 
There is no such thing as "NFC compatible" or "NFC device" etc.  choosing IMC's NFC Forum-certified devices assures compatibility across all NFC readers and phones around the world when rolling out Medication Adherence solutions.  
Congratulations to the IMC engineering team for this achievement. 
For more information please contact Joanne Watters jwatters@informationmediary.com
Medication Adherence Solutions for the Big Data Age
IMC makes IoT connected Med-ic Smart Blisters, eCAP Smart Medication Bottles, CoolBlue temperature aware Smart Pack for syringes and custom products. IMC is active in the AI enabled digital health field, and offers its own secure CertiScan clinical research adherence cloud as well as the Medopad digital health platform worldwide. IMCs latest Lilipond AI project is aimed at detecting opiate abuse early enough to avoid addiction; focussing on prevention. Our solutions are connected through our CertiScan Adherence Cloud and partnerships with global health platforms.
Unrivalled 3 sigma dose event accuracy, support track and trace logistics, detect tampering, fraud, diversion and much more.
Experience the latest generation of award-winning Smart Packaging.  The power of connected smart packaging and innovative adherence technologies is now in the hands of the patient. Global digital mobile health platforms connect patients and their data directly with their care teams to assist in behavioural modification and support both AI and human clinical decisions.
"Allowing nonadherence to go unaddressed results in spurious data that can lead to erroneous conclusions (underestimation) of an IND's effectiveness, with resulting downstream effects on all those for whom the drug, if approved, will ultimately be prescribed." Allan Wilson, MD PhD., President and co-founder of IMC.
The gold-standard solution to the problem of patient non-adherence with prescribed medication for unit-dose blister packaging.
eCAP™ is your smart bottle solution for monitoring adherence. Each opening is recorded in real time.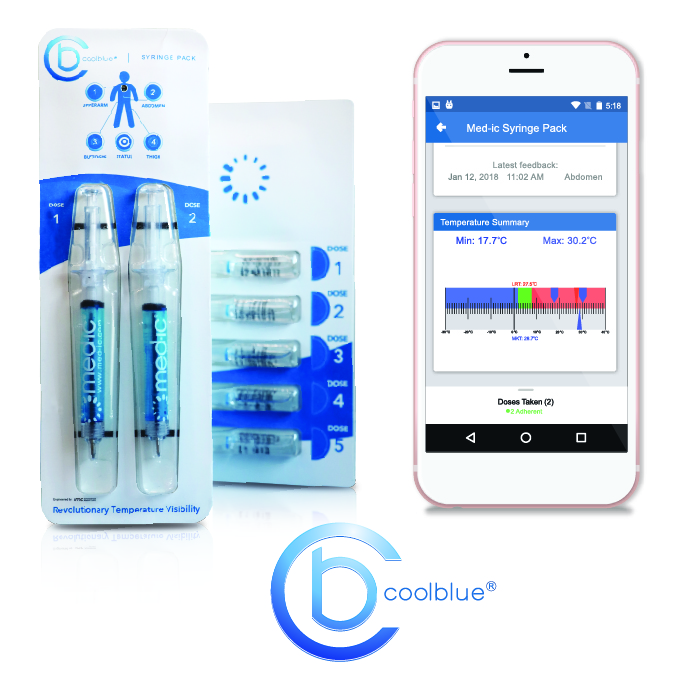 CoolBlue® AI offers built-in temperature excursion monitoring as a companion to Med-ic smart blisters, syringe packs and eCAP bottles.
A discreet real time electronic symptom checklist that fits conveniently in a pocket or purse.